The Best Fun Games to Play Online with Friends
now.gg has the best selections of the best fun games to play online with friends. Find the 5 top games in this category on this list.
For many users out there, gaming is more than just a hobby for spending time alone with their favorite titles. For some of us, gaming is also a hobby that brings people together and lets them unite towards a common cause. Whether it's teaming up to survive rounds in battle royale games; forming alliances to grow their strength in strategy conquest games, or simply joining up in parties in MMORPGs to tackle the most challenging content, playing online with friends is some of the most fun you can have with this hobby.
There are many, many fun online games out there that offer cooperative gameplay, or perhaps even PvP, so that we can group up with friends and have some fun times together, or even play against each other in some awesome friendly rivalry. However, with so many games to choose from, which are the best ones? To answer this question, we've decided to build this to give you an idea of the best fun games to play online on now.gg.
With now.gg, you no longer have to rely on your phone in order to enjoy mobile games. Our mobile cloud lets you play these games on literally any device, without any installs or downloads, and directly on your web browser, by clicking on a single link. If you're looking for some quick easy fun that you can enjoy with friends, then look no further than these games on now.gg.
1. Among Us
One of the best and fun games to play online currently in the market, Among Us first rose to fame in the wake of the 2020 lockdowns, when people started spending more time indoors and working from home. The game splits 10 to 15 players into two main groups; one larger team of Crewmates, and one or two Impostors. The objective for the Crewmates is to run around the map completing a series of tasks while keeping an eye out for suspicious behavior. Meanwhile, the Impostor's role is to go around picking off the other team one by one, while keeping their identity a secret.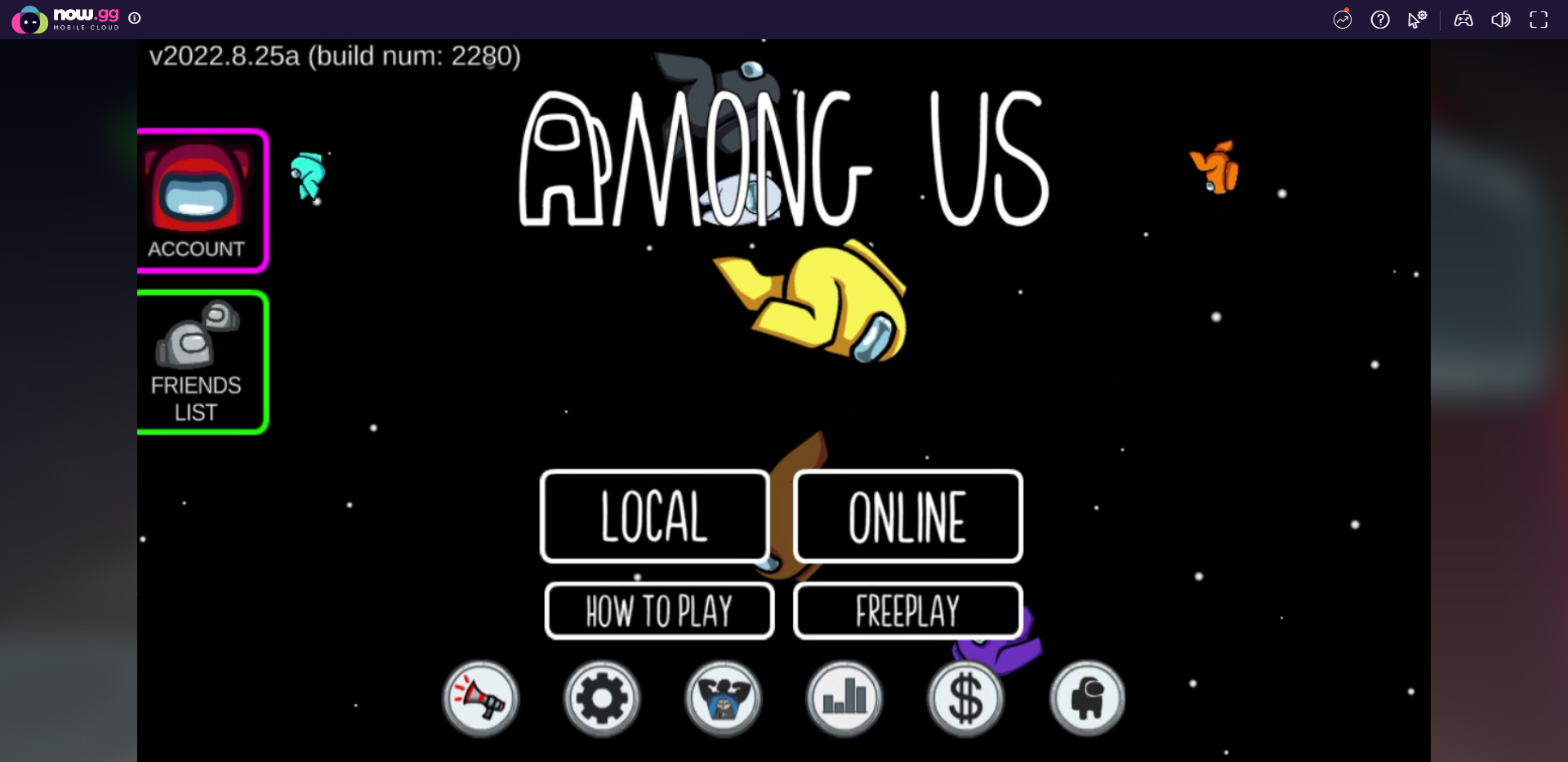 This simple premise makes for some of the most fun social deduction gameplay, where players are constantly throwing shade at one another, while the Impostor works to sow chaos and confusion among all the other players. As such, it's not uncommon for the wrong players to get labeled as the Impostor and get thrown off the map, which is always hilarious. On the other hand, it's always fun to catch the Impostor red-handed in their own lies, and subsequently have them ejected, earning the team a Crewmate victory.
Among Us is a great game if you're alone and looking to spend a few minutes of downtime, but it's even better if you play with a group of friends and let the shenanigans ensue!
2. Super Sus
For those who like Among Us, but aren't really thrilled by its graphics or visuals, Super Sus is essentially the same game but made by a different, and with a very different art style. In fact, you could even go as far as to say that Super Sus is basically a clone of Among Us, but in 3D and with more elaborate animations and silky smooth performance.
There's really not much to say about Super Sus that we haven't already said about Among Us. Nevertheless, it's still a fun game that you could play whenever you want to enjoy the same style of social deduction gameplay, but with a fresh coat of paint.
3. Call of Duty: Mobile
Of course, we can't really talk about fun online games to play with friends without mentioning at least one Call of Duty game. In this case, Call of Duty: Mobile is the highly-successful mobile installment of the popular shooter game franchise, and is the first and only one in the series to bring stellar battle royale gameplay to the mobile platform. 
In Call of Duty: Mobile, you can have fun with your friends by teaming up and engaging in a ton of different game modes, including the always-popular Team Deathmatch, as well as other multiplayer modes. Additionally, you can also join up with a group of friends and tackle the battle royale mode and fight to become the last person standing.
And when you're not running and gunning, you'll be hanging back tinkering with the Gunsmith feature to customize and upgrade your favorite weapons, in order to enhance their performance in combat and make yourself a more lethal killing machine during your matches.
4. Rise of Kingdoms
If fast-paced team-based shooters aren't your thing, and you're more of a strategy gamer, then Rise of Kingdoms might be right up your alley.
Rise of Kingdoms is one of the most popular strategy conquest games on the mobile platform. This genre is all about building and developing your towns as well as building up your armies, in order to increase your strength and engage against other players in fun PvP gameplay, much like in PC real-time strategy games. However, not everything is about conflict, as you can also establish alliances with your friends and rise up to become the strongest clan in the server.
Rise of Kingdoms offers tons of variety with its large roster of recruitable Commanders, powerful units that lead your armies in combat. Additionally, there are a large variety of civilizations to choose from, each with their own special troops and passive traits, which appeal to many different play styles.
Whether you're a trader that wants to focus on enhancing their production and making a fortune via trading goods; a warrior aiming to dominate their enemies through sheer might, or a hybrid of both, Rise of Kingdoms lets you do this and much more!
5. Rebirth of Chaos: Eternal Saga
At this point, mobile MMORPGs are certainly nothing new, and have actually become very formulaic as of late. And while Rebirth of Chaos sports some awesome graphics, animations, and visuals, it doest little to stray from the typical mobile MMORPG formula, except for one aspect, the battle royale game mode.
Rebirth of Chaos is a pretty standard MMORPG in most aspects, and will have you traveling across the land completing quests, leveling up, discovering new gear, and more. However, it also has a fantastic new battle royale game mode where a group of players can compete and fight to become the last person standing. This game mode is a breath of fresh air in an otherwise unremarkable game, considering that the battle royale mode still isn't very common in these mobile MMORPGs.
If you're looking for a fun mobile MMORPG that also offers variety in the form of an awesome battle royale aspect, then Rebirth of Chaos: Eternal Saga is your best bet, especially if you play it on PC with now.gg and get access to the best controls and performance to help you win all your matches.
Get regular blog updates to your inbox