The Best Unblocked Games to Play at School Online
Here's a list of 5 of the best unblocked games to play in schools online on the now.gg mobile cloud.
School can sometimes be a bit boring, especially when you're between periods and waiting for the class to start. In these cases, some of us might find ourselves flipping open our phones or laptops and launching a game to play a quick match or two, only to find that the school network is blocking our access to our favorite online games. If this is the case, then you'll need to find websites with unblocked games that you could enjoy anywhere without restrictions.
While there are websites that offer fun games to play at school online, your selection is limited only to the games on these specific websites. However, with the now.gg mobile cloud, you can play virtually any mobile game on your computer, laptop, phone, or any other device, with no restrictions whatsoever. What's more, now.gg lets you stream the games directly from our servers, allowing you to play them without the need for any installs or downloads. In this sense, you could get access to countless unblocked games to play at school online, even when you're using a school PC, laptop, or even Chromebooks.
With so many games available on the now.gg mobile cloud, the only problem would be finding the ones that you'd enjoy. In this sense, we've compiled a list of 5 of the most fun computer games to play at school, with a single click and no downloads, using now.gg.
1. Roblox
More than just a game, Roblox is an educational tool, as well as a platform where users can find countless different creations to download and try out. As such, Roblox can't be defined as just one game, but rather a place where you can find countless titles across many different genres, all of which are created by the users using the versatile framework that the platform provides.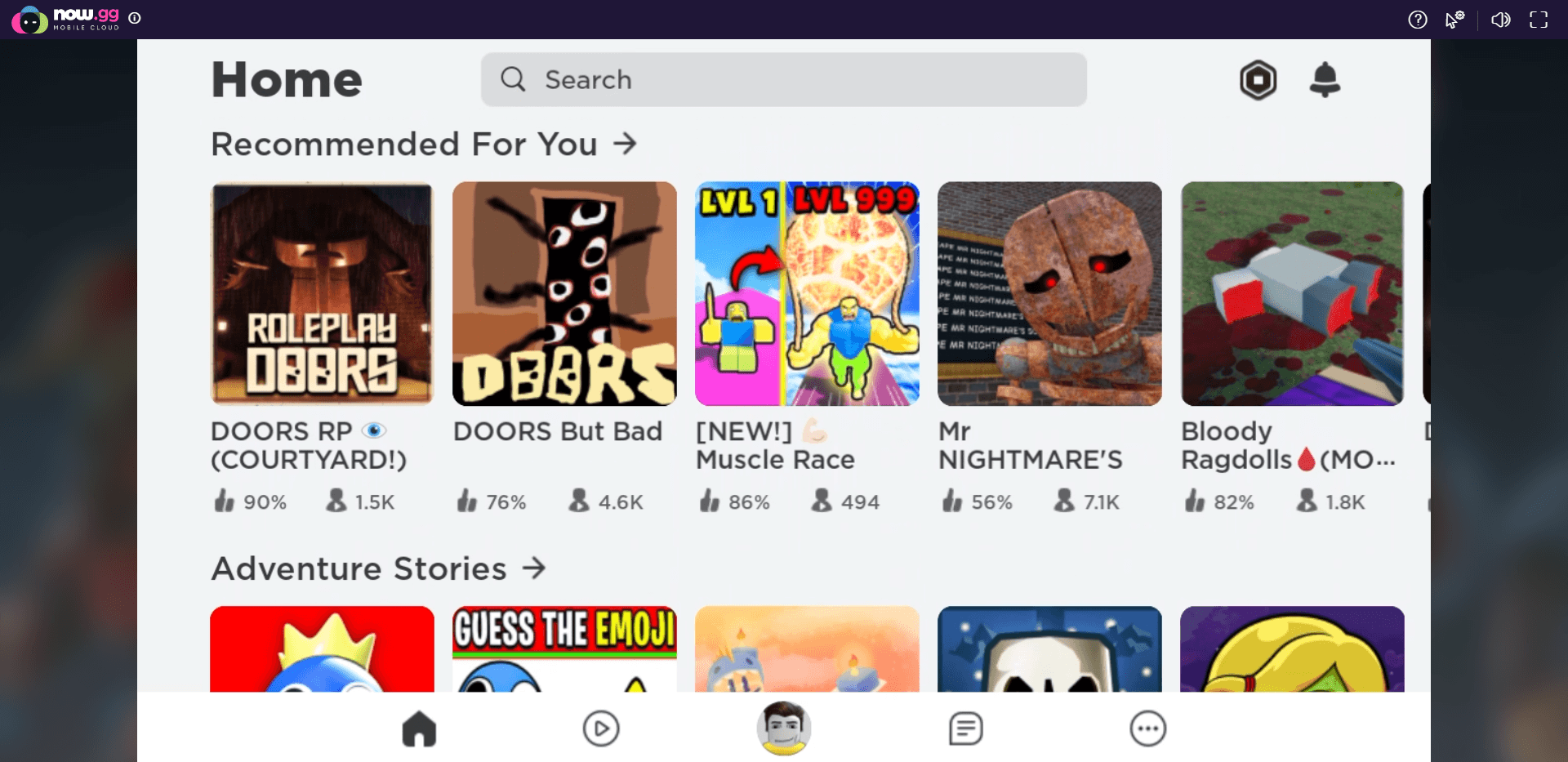 From educational games for younger users to full-blown horror and shooter titles for more mature audiences, among countless others, Roblox has a little bit of everything to offer everyone, which makes it one of the most fun computer games to play at school. And while anyone can play Roblox on their computers using the native PC version, most schools often block it so that students can't get distracted playing. Luckily, you can play Roblox unblocked on now.gg, with just a single click, and on any device imaginable, directly on your web browser.
With now.gg, you can spend those boring minutes of downtime with some of the most fun creations on the Roblox platform, with no restrictions or limitations.
2. Sudoku
Because not all games have to be about mindless fun, Sudoku exists as a fun and challenging way to spend your downtime in school. And if you play it on now.gg, you can get instant access to countless Sudoku puzzles with a single click, and directly on your web browser, by streaming it directly from the cloud.
There's not much to say about Sudoku that you probably don't know about, which speaks volumes about its quality as a classic pastime. And with now.gg, you don't even have to install or download anything to start enjoying the best puzzles on your PC, laptop, phone, Chromebook, or any other device.
3. Brain Out
If Sudoku isn't your thing, there are many other types of puzzle games out there that will challenge your mind in many different ways. Brain Out happens to be one of the best puzzle and quiz games out there, with hundreds of different questions that will challenge you in many different ways; from testing your math and reasoning skills, to also challenging your logic and ability to think outside the box.
One of the key aspects of enjoying these puzzle games is to be able to access them quickly and with now.gg, you can play Brain Out instantly with a single click, so that you can spend what little downtime you may have actually played, instead of waiting for pesky downloads, updates, or installations to finish. 
4. Subway Surfers
The most popular infinite runner game is on now.gg with a single click. Access Subway Surfer with a single click and enjoy some of the most fun you can have running, jumping, dodging obstacles, and collecting coins and power-ups to run for as long as you can without getting caught by the pursuing policemen.
Subway Surfers has a very simple premise: You take control of a strapping young lad whose sole purpose is to run away from the police officers after they spot him doing some graffiti on the local neighborhood wall. To aid in his escape, you must control your hero and help him avoid obstacles by switching lanes, as well as by jumping over hazards and sliding under barriers. The challenge here is that your character is always running automatically and never, ever stops. In this sense, it's your job to keep him safe at all costs and have him run for as long as possible without getting caught.
Subways Surfers is the most fun you can have with the simplest premise possible, especially if you play it on PC with now.gg to get the best graphics, performance, and controls.
5. June's Journey
Casual games have always been an awesome way to pass the time, ever since the arrival of Candy Crush catapulted the genre into mainstream appeal. Nowadays, casual games often incorporate many different aspects to their gameplay to spice it up and add some variety to the mix. 
June's Journey is a game that takes the best of casual gameplay and combines it with mystery plot elements, as the player must complete a variety of puzzles in order to score points, which are then used to progress the story and purchase a variety of items. These puzzles will take us to scout countless different locales to find valuable clues and help our protagonist solve mysteries.
June's Journey is just an exciting experience all-around and is one of our recommended fun computer games to play at school on now.gg. Check it out for yourself and see what the hype is about!
Get regular blog updates to your inbox