Play the New Mini Heroes: Summoners War on now.gg With a Single Click, With No Downloads or Installations
Discover the incredible benefits of playing the new Mini Heroes: Summoners War on now.gg. Enjoy seamless gameplay across devices with no downloads or installations required. Join the adventure today!
Mini Heroes: Summoners War is an upcoming mobile game that combines Q-style graphics with strategic gameplay, promising players a delightful and relaxing adventure experience. As the release date approaches in May, anticipation is mounting among gamers eager to embark on a journey of formidable squads and global competition.
In Mini Heroes: Summoners War, players will dive into a world where strategy reigns supreme. Building the most formidable squad is key to success, as they compete against players from all corners of the globe. With easy accessibility and the ability to play anywhere, anytime, this game offers a unique blend of convenience and entertainment.
The game boasts a rich array of features that cater to different types of players. For casual players, Mini Heroes: Summoners War offers a cute and humorous art style that brims with creativity and charm. The game allows them to collect over a hundred unique heroes without the need to grind or pay, opening up a world of possibilities. Additionally, various gameplay modes, including PVE, PVP, and legion battles, provide endless hours of enjoyment.
On the other hand, senior players will find themselves immersed in the vastness of Mini Heroes: Summoners War. With a multitude of heroes at their disposal, the possibilities for team composition and strategies are endless. The game offers smooth controls and top-notch graphics, ensuring a high-quality gaming experience that keeps players engaged. Regular updates, introducing new heroes, storylines, and challenges, guarantee that the game remains fresh and captivating.
As players eagerly await the release of Mini Heroes: Summoners War, it's worth considering the benefits of playing this exciting game on now.gg. Now.gg offers a revolutionary cloud gaming platform that allows players to access Mini Heroes: Summoners War on any device with a single click, eliminating the need for downloads or installations. This convenience empowers players to dive into the game seamlessly, without worrying about storage constraints or device compatibility.
In this article, we will explore the numerous benefits and advantages of playing Mini Heroes: Summoners War on now.gg. From convenience and accessibility to enhanced gameplay performance, now.gg unlocks the true potential of this highly anticipated mobile game. Let's delve deeper into the world of Mini Heroes: Summoners War and discover how now.gg revolutionizes the gaming experience.
Accessing Mini Heroes: Summoners War on the Cloud With now.gg
Playing Mini Heroes: Summoners War on now.gg provides an edge in the competitive landscape. By leveraging the power of cloud gaming, players can enjoy smooth and lag-free gameplay, enhancing their overall gaming experience. Whether they prefer to play on a mobile device, tablet, or computer, now.gg ensures accessibility and flexibility, allowing players to engage with the game on their terms. And one of the most compelling aspects of our platform is that, since gamers are accessing this game through the internet from our cutting edge servers, they won't have to worry about performance, graphics settings, or storage concerns, since nothing is actually being rendered or processed on their end.
Insert Screenshot of the Mini Heroes now.gg App Page Here
The now.gg mobile cloud makes it easy to access the gamer's favorite titles with a single click, and Mini Heroes is no exception: Simply navigate to the Mini Heroes: Summoners War app page on our now.gg website, click on "Play in browser", and wait a few seconds while we set everything up for you, after which you can enjoy the best gameplay with this title right on your browser, with no downloads or installs required.
This ease of access works both in the users' as well as developer's favor, since sharing and advertising their game is as sharing a single link on any social media page, and giving prospective easy access to a trial of the game with no strings attached. And once they see and enjoy all you have to offer, they can either keep playing on now.gg, or transition to the mobile app to continue experiencing the best gameplay.
Benefits of Playing Mini Heroes: Summoners War on now.gg
If what we've said so far still isn't enough to illustrate the perks of gaming on now.gg, here are three more benefits of gaming on the mobile cloud. Playing Mini Heroes: Summoners War on now.gg opens up a world of advantages that enhance your gaming experience, ensuring seamless gameplay, convenience, and the ability to play across multiple devices. Let's dive deeper into these benefits: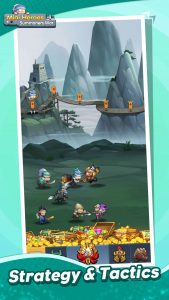 Synchronize Your Progress Across All Your Devices





When playing Mini Heroes: Summoners War on now.gg, you have the freedom to switch between devices without losing your hard-earned progress. By linking your game account with your Google Play account or a similar service, your game data synchronizes effortlessly. Whether you're playing on your smartphone, tablet, or computer, you can pick up where you left off and continue your adventure without any interruptions. This flexibility allows you to enjoy the game on your preferred device while maintaining a consistent gaming experience.





Simplify Rerolling With Easy Restarts





For players seeking to optimize their gameplay experience, rerolling can be a valuable strategy. If rerolling is possible in Mini Heroes: Summoners War, now.gg streamlines the process, making it incredibly convenient. By simply closing the game, clearing your browser cache, and restarting, you can reset your progress and embark on a fresh start. This ease of restarting saves you time and effort, enabling you to explore different character combinations or strategies efficiently. With now.gg, rerolling becomes a breeze, allowing you to dive back into the game with renewed enthusiasm.





Play With the Best Graphics, Performance, and Keyboard Controls





One of the standout features of now.gg is its ability to deliver top-notch graphics, smooth performance, and customizable keyboard controls. Mini Heroes: Summoners War comes to life on the now.gg platform, offering enhanced visuals and an immersive gaming experience. With the power of cloud gaming, you can enjoy stunning graphics and seamless animations, bringing the adorable art style and charming characters of Mini Heroes to vibrant life. Moreover, the platform ensures optimal performance, eliminating lag and latency issues that can hinder your gameplay. Whether you're engaging in intense battles or navigating complex quests, now.gg delivers a seamless and enjoyable gaming experience. Additionally, the platform supports keyboard controls, giving you the freedom to play the game with your preferred input method, enhancing precision and control.
By choosing now.gg as your gaming platform for Mini Heroes: Summoners War, you gain the advantage of synchronizing your progress across devices, simplifying rerolling, and enjoying the best graphics, performance, and keyboard controls. 
Get regular blog updates to your inbox