Baba Wild Slots Review: Unleashing Slot Excitement on now.gg
Enter a world where the reels come alive with endless possibilities and the exhilaration of spinning them keeps you on the edge of your seat. Baba Wild Slots, renowned for
Enter a world where the reels come alive with endless possibilities and the exhilaration of spinning them keeps you on the edge of your seat. Baba Wild Slots, renowned for its immersive gameplay, transports players into a realm of excitement like no other. In this comprehensive review, we will not only delve into the captivating features and mechanics of Baba Wild Slots but also explore the distinctive perspective of enjoying this thrilling game on now.gg's innovative cloud gaming platform.
Baba Wild Slots has garnered a massive following, captivating players worldwide with its stunning visuals, immersive soundscapes, and an extensive collection of slot machines. Each spin of the reels becomes a heart-pounding moment as you chase monumental wins and unlock exhilarating bonus features.
What sets this review apart is our focus on the unique perspective of playing Baba Wild Slots on now.gg. The now.gg platform revolutionizes the way you access and indulge in your favorite games by harnessing the power of cloud gaming. Through now.gg, you can seamlessly immerse yourself in the world of Baba Wild Slots, relishing its delights across various devices without the hassle of downloads or installations.
Prepare yourself for an unforgettable adventure as we explore the intricacies of Baba Wild Slots and unveil the extraordinary benefits of experiencing this captivating slot game on now.gg's cutting-edge cloud gaming platform. Let the reels ignite with anticipation as we unravel the magic that awaits you!
Benefits of Playing Baba Wild Slots on now.gg
Playing Baba Wild Slots on now.gg comes with a range of benefits that enhance your gaming experience. Firstly, now.gg offers seamless gameplay, ensuring uninterrupted enjoyment without lags or delays. With its advanced cloud gaming infrastructure, you can dive into the excitement of spinning the reels without any hindrances.
Another advantage is the enhanced performance provided by now.gg. The game's graphics, animations, and audio are optimized for an immersive and captivating experience. Enjoy stunning visuals and smooth gameplay, thanks to the power of cloud servers.
The accessibility across devices is a standout feature of now.gg. Whether you prefer gaming on your smartphone, tablet, or computer, now.gg allows you to seamlessly switch between devices while retaining your progress. This flexibility enables you to play Baba Wild Slots whenever and wherever you want.
Additionally, now.gg eliminates the need for downloads and installations. Say goodbye to cumbersome processes and large file sizes. With now.gg, you can start playing Baba Wild Slots with a single click, saving you time and freeing up storage space on your devices.
In summary, playing Baba Wild Slots on now.gg offers seamless gameplay, enhanced performance, device accessibility, and the convenience of no downloads or installations. Dive into the thrilling world of Baba Wild Slots and enjoy an optimized gaming experience with now.gg.
Game Mechanics and Slot System
Baba Wild Slots offers an exciting and diverse selection of slot machines, each with its own unique theme and features. From classic fruit machines to adventure-filled quests, the game caters to a wide range of preferences.
The gameplay revolves (no pun intended) around pressing a button to make reels spin, and earn rewards depending on how they line up when they stop. One of the key elements in Baba Wild Slots is the presence of wild symbols, which substitute for other symbols to create winning lines. These wild symbols can significantly boost your chances of landing big wins.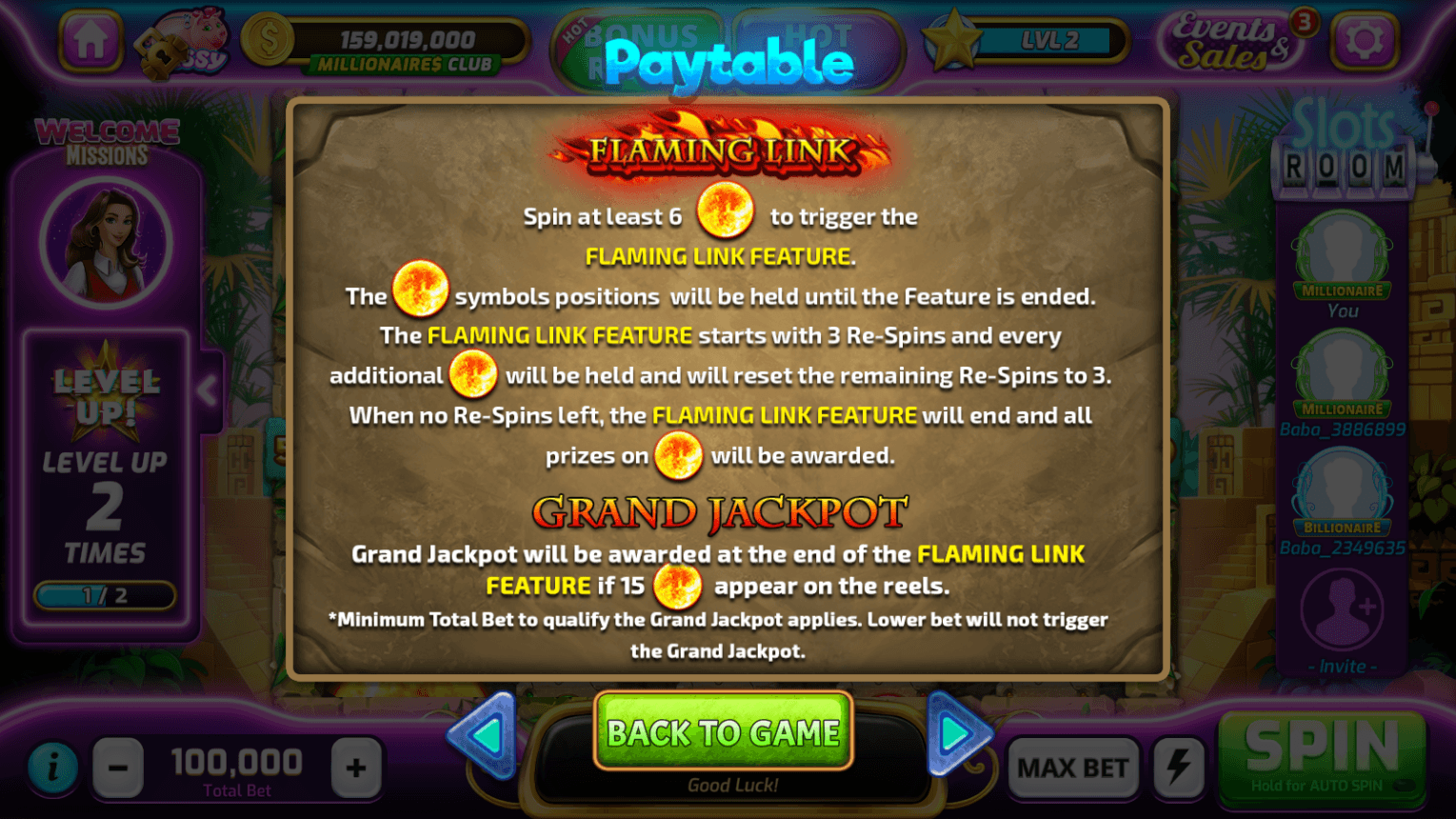 Another thrilling aspect of the game is the inclusion of bonus rounds. These special features can be triggered by specific symbol combinations or through the game's progression. Bonus rounds offer exciting opportunities to earn additional rewards, such as multipliers, extra spins, or interactive mini-games. They add an extra layer of excitement and anticipation to the gameplay experience.
Free spins are also a prominent feature in Baba Wild Slots. These are typically triggered by landing a specific number of scatter symbols on the reels. Free spins allow you to spin the reels without using your own credits, giving you the chance to win prizes without any risk. They are often accompanied by enhanced features, such as increased multipliers or additional wild symbols.
What sets Baba Wild Slots apart are its standout features and mechanics. The game continuously introduces new slot machines with engaging themes, captivating graphics, and immersive sound effects. The variety of gameplay elements ensures that each spin is filled with anticipation and entertainment.
Whether you're a fan of traditional slot machines or enjoy exploring innovative features, Baba Wild Slots offers a diverse and engaging experience. Spin the reels, chase wild symbols, trigger exciting bonus rounds, and enjoy the thrill of winning in this immersive slot game
Why wait? Play Baba Wild Slots – Casino Games instantly on your browser without downloading anything. Click, and start playing now.
How to Maximize Odds and Gain Profits
To maximize your odds and payouts in Baba Wild Slots, it's essential to employ effective strategies and utilize the game's features wisely. Here are some valuable tips and tricks to enhance your gameplay experience:
Manage your bankroll
Before starting to roll the reels, you need to always set aside the amount of cash that you want to dump into a machine at any given moment. In other words, budgeting your gameplay funds are crucial for your success: Determine the amount you're comfortable spending on the game and divide it into smaller sessions. Avoid chasing losses and know when to stop playing, ensuring responsible gambling habits. Even though Baba Wild Slots is played using virtual currency that has no value in the real world, exercising property gambling habits can help to ensure your longevity in this game.
Choose the right slot machines
Each slot machine in Baba Wild Slots has different volatility levels and payout potentials. Higher volatility slots may offer larger payouts but with less frequency, while lower volatility slots provide smaller wins more often. Consider your preferred playing style and risk tolerance when selecting a machine.
Take advantage of special features
Baba Wild Slots offers various special features, such as bonus rounds, free spins, and mini-games. These features present excellent opportunities to increase your winnings. Triggering bonus rounds and free spins can lead to significant payouts, so keep an eye out for the specific symbol combinations required to activate them.
Study the paytable
Familiarize yourself with the paytable of each slot machine. The paytable provides valuable information about symbol values, special features, and winning combinations. Understanding the game's mechanics and payout structure allows you to make informed decisions and strategize accordingly.
Play with maximum bet when appropriate
Some slot machines in Baba Wild Slots offer higher payouts or progressive jackpots when you play with the maximum bet. If your bankroll allows, consider placing the maximum bet to maximize your potential winnings. However, always play within your budget and avoid risking more than you can afford.
Take advantage of promotions and bonuses
Keep an eye out for special promotions and bonuses offered within the game. These can provide additional credits, free spins, or other advantages that boost your chances of winning. Utilize these opportunities to extend your gameplay and increase your potential payouts.
By implementing these tips and tricks, you can enhance your odds of winning and maximize your payouts in Baba Wild Slots. Remember to enjoy the game responsibly and have fun while exploring the exciting world of slot machines.
How to Keep Playing After Burning Through Your Funds
When it comes to playing Baba Wild Slots on now.gg, running out of funds is no longer a roadblock to your gaming enjoyment. Thanks to the benefits of cloud gaming, you can continue your slot adventure effortlessly, even when your funds are depleted.
What sets now.gg apart is the simplicity of starting fresh. If you find yourself in need of a new beginning, just exit the game and clear your browser cache. Upon returning to Baba Wild Slots through now.gg, you'll be greeted with a clean slate—a brand new account ready to explore the excitement once again. The process is seamless, allowing you to relish the game without any financial limitations.
Cloud gaming on now.gg empowers you to indulge in extended gameplay sessions with ease. Say goodbye to the worry of running out of funds and embrace the freedom to play to your heart's content. Discover new strategies, unlock captivating features, and keep the reels spinning endlessly on now.gg. Immerse yourself in the world of Baba Wild Slots, where the fun never ends.
Experience the boundless joy of gaming without the constraints of your budget. Join now.gg today and discover the thrill of Baba Wild Slots, where the adventure continues even after your funds have been depleted. Start anew, reignite your winning spirit, and let the reels unleash a world of possibilities.
With all that being said, playing Baba Wild Slots on now.gg offers a multitude of benefits that enhance the overall gaming experience. With seamless gameplay, enhanced performance, and accessibility across devices, now.gg provides a convenient platform to enjoy this thrilling slot game. The advantages of cloud gaming are eliminate the need for downloads or installations, allowing players to jump right into the action.
By playing on now.gg, you can synchronize your progress and earnings across all devices, ensuring a seamless transition between platforms. Additionally, you can continue playing even after running out of funds, starting fresh with a new account in a matter of moments. The superior graphics and performance delivered through the now.gg servers provide an immersive gaming experience, all you need is a stable internet connection.
Don't miss out on the excitement of Baba Wild Slots. Join the adventure on now.gg and experience the thrill of spinning the reels with the added benefits of cloud gaming. Start your winning streak today and discover why Baba Wild Slots on now.gg is the ultimate choice for slot enthusiasts.
Take action now and embark on a slot journey like no other. Visit now.gg, access Baba Wild Slots, and let the reels spin in your favor. The next big win could be just a click away. Play Baba Wild Slots – Casino Games on your PC or mobile without downloads! Click and start playing instantly for a smooth and hassle-free experience.
Get regular blog updates to your inbox